This year's 33rd issue of Shueisha's Weekly Shonen Jump magazine is revealing on Monday the cast and a new visual for the stage play adaptation of Haruichi Furudate's Haikyu!! manga. The cast and visual feature the members of the Karasuno High School volleyball club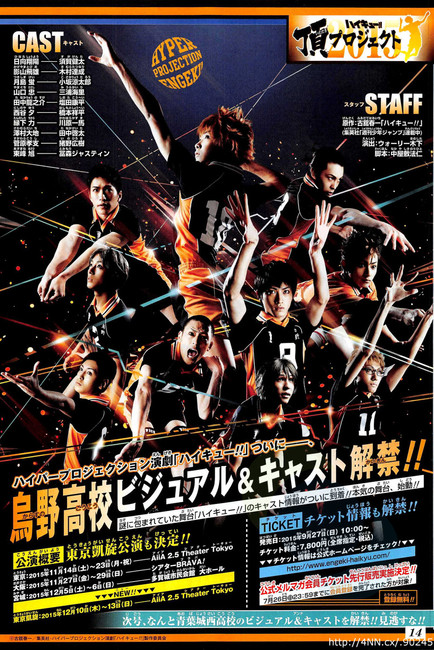 The cast is as follows:
Kenta Suga as Shōyō Hinata
Tatsunari Kimura as Tobio Kageyama
Ryōtarō Kosaka as Kei Tsukishima
Kairi Miura as Tadashi

Yamaguchi

Kōhei Shiota as Ryūnosuke Tanaka
Shōhei Hashimoto as Yū Nishonoya
Kazuma Kawahara as

Chikara

Ennoshita
Keita Tanaka as Daichi Sawamura
Hiroki Ino as Kōshi Sugawara
Justin Tomimori as Asahi Azumane
The official website for the stage play had revealed the first visual last month with the tagline, "You're not alone, so believe and jump."
The "manga x play x video hybrid performance hyper projection play" will run at the AiiA 2.5 Theater Tokyo in mid-November. It will then travel to Osaka's Theater Brava! in late November, and finally to the Tagajō Shimin Kaikan's Great Hall at Miyagi's Tagajo City Cultural Center in early December. "Worry Kinoshita" is directing the stage play, and Norihito Nakayashiki is writing the script.
Production I.G's anime adaptation of Furudate's volleyball manga premiered in April 2014. Sentai Filmworks has licensed the series for North American digital and home video release, andCrunchyroll streamed the series as it aired.
The anime franchise is getting two compilation films on July 3 and September 18, and a secondseason of the anime will premiere this fall.
The story follows Shōyō Hinata (voiced by Ayumu Murase in the anime), who began playing volleyball after seeing the "Small Giant" who played the sport when he was in elementary school. He suffers a crushing defeat in his first and last tournament in middle school at the hands of his rival Tobio Kageyama (Kaito Ishikawa). So, Hinata joins Karasuno High School's volleyball team, vowing revenge against Kageyama.
However, Kageyama is also on Karasuno's team. The former rivals form a legendary combo with Hinata's mobility and Kageyama's precision ball-handling. Together, they take on the local tournaments and vow to meet Kurasuno's fated rival school in the nationals.
Furudate's manga also received an anime special for the Jump Special Anime Festa event on November 9. This special received a DVD release with the 15th volume of the manga on March 4. The manga has also spawned a series of novels, and aNintendo 3DS game adaptation shipped in Japan on September 25.
Furudate first published a one-shot version of the manga in the Winter 2011 issue of Shueisha'sShonen Jump Next! magazine, and then ran another one-shot in the main Weekly Shonen Jumpmagazine later that year. In the following year, he launched the series version of the manga inWeekly Shonen Jump. Shueisha published the 16th compiled volume on May 1.